We are one week post-quarantine in our dental office, and in that first week we have noticed a few things, as a team. In general, patients are not afraid or leery to make appointments and to come in for dental procedures.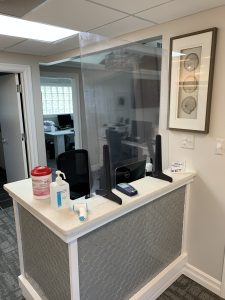 Accordingly, appointments are difficult to come by in the short term because everybody is calling NOW, and almost 3 months of minor, non-emergency dental problems need to be addressed. We are placing priority on appointments we had to reschedule during the quarantine, anybody in discomfort or distress, and future emergencies.
The protocols we have put in place are working great. 99% of patients are coming to their appointments with masks on, and are following protocol by calling or texting from their car in the parking lot to alert us that they have arrived. Our patients are very understanding about waiting in their car until we are ready (we are very punctual), and allowing us to take their temperature at the door. Patients are equally understanding about our office trying to limit use of our beautiful reception area and patient restroom, for potential contamination reasons. I want to emphasize however, that the patient restroom and reception area can be used of course, if need be!! We take painstaking care to wipe everything down after a patient leaves, including the door handles, chairs, counters, restroom, etc., upon entry AND departure.
We have also noticed that our patients appreciate all of our PPE that our back-office providers wear for patient safety, as well as our own. With N95 masks, faceshields, surgical caps, glasses, and surgical gowns, it is hard at times to understand our "muffled" voices, and we are very warm under all the PPE gear. Thank you for being patient with our muffled voices, and the need to keep the office rather COOL. I recommend dressing warm to your appointment and possibly bringing your own blanket to counter the cool office temperature.
Lastly, we have had a few patients call the office ahead of time, asking if we are charging an extra, separate fee for the PPE we wear. No, my dental office is not charging an extra, separate fee for PPE! The extra time to disinfect, the extra work, the extra equipment (such as our new HEPA air purifiers), and the new PPE protocols and gear, are certainly very expensive, but I made a decision not to charge an extra fee, and prefer to focus on patient and staff safety.
It has been a difficult and strange 2 ½ months for all of us. I believe some of the new protocols for dentistry will be temporary, but some new protocols may be permanent; time will tell. Thank you so much for understanding, and realize I am here for you when you need me.
Contact our office to schedule an appointment.